About  us
our products, partners and history
Walachia has been making high quality traditional and educational wooden toys in Czech Republic since 1991. We use beech and pine wood from Czech forests. At the beginning we had 5 types and now we are producing 45 types of kits.
All kits are stocked in our factory, we ship the goods the next day to Czech republic and in two days abroad. We use DHL, Schenker and Dachser. We offer to our distributors catalogues, built samples to display and carton stand for free.
With our kits often both the adults and kids are entertained. Our kits are educational, aesthetic and natural toy, which is environmentally friendly and safe for children. Our kit develops a child's imagination and manual skills, teaches them patience and logical reasoning and show them that even in today's world full of technology classic toys are not boring.
Long life of kits is provided by a combination of quality solid wood and perfect processing. Thanks to used massive wood, the kits look like real constructions.
WALACHIA® kits were awarded the prize "Proper Toy" that is received by toys that meet number of criteria from quality through health safety and hygiene to educational benefits for the child. All kits have CE certificate.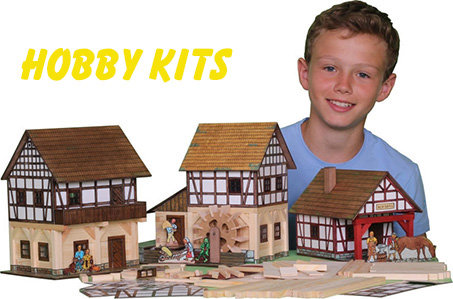 VARIO building set
Children from 5 years will experience hours of fun and careful work with VARIO kits – 9 variants can arbitrarily compose and decompose to dozens of models of buildings. These differ in the amount of parts, roof design and packaging. All of these models are compatible with each other and can build dozens of different buildings. For practical storage and durability are VARIO kits stored in solid cardboard boxes, kits in the VARIO SUITCASE execution are stored in the practical cases and the VARIO BOX are hidden in a massive box made of beech wood and plywood, with wheels.
In nurseries and children's rooms is not just as a storage space for kit, but also as part of the seating furniture.
Wooden HOBBY KIT
For children from 8 years are designed wooden HOBBY KIT, which are available in 36 models – from the simple bell tower or building to the castle pasted out of 607 parts. In each kit you will find step-by step diagram instructions, i.e. pictograms, with symbols for separate working acts, to glue exactly made prisms from pine wood. In addition, the pack also contains a short chapter from the construction and history of folk architecture. To glue kits you need just ordinary glue for wood and paper, which is not included.
The finished building are lovely accessories for children's rooms and rooms of nursery schools. Kids can add toy cars, dolls, toy soldiers or animals and create a whole city.
The firm WALACHIA® is the family firm, established in 1991. The idea with kits belongs to Pavel Hrůza senior. It started on the bases his thirty years pedagogical and cottage work and also experience working with wood.
In 1994 the son Pavel came to the senior ( at this time just engineer ) with idea working together. Senior takes care of new products development, junior takes care of business and producing. The firm prospers, there are more types of kits. Prototypes are changing into series product. WALACHIA® started with five types of kits, now the WALACHIA® is producing 45 types of kits. The kits travel also abroad. The description and instruction are translated into various languages.
They are also periodically presented to the fair in Prague, Nuernberk, Liepzig, Dubai and New York. In the year 2000 the offices and the assembly – plant were removed to the bigger spaces from Zlín to Fryšták, where the production worked already.
Do you want become our partner and sell our products?